Last week it was the PGA TOUR Champions Tour players we got to watch at the Mitsubishi Electric Championship at Hualalai.
Now it's the future PGA TOUR stars we get to watch and for free. Coming up at Waikoloa Beach Resort Wednesday-Saturday February 3-6, it's the 25th Amer Ari Intercollgiate with 18 top college teams. It was just a few years ago that the World Golf Ranking #1 in the World Golfer Jordan Speith was on the winning Texas Longhorn team. That's Jordan in the photo fourth teammate from the left standing next to his College Golf Coach John Fields.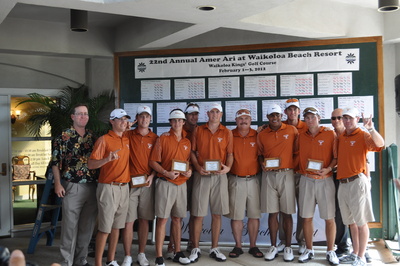 In the past I've seen Tiger Woods, Matt Kucher and Notah Bagay when they were the college players being called the future PGA TOUR players. This year the teams include the #1 ranked team in the country, Auburn University, led by current NCAA Men's No. 1-ranked player, Michael Johnson; and Stanford University, led by the NCAA Men's No. 3-ranked player, Maverick McNealy. I encourage any who likes golf or team sports to come out to watch.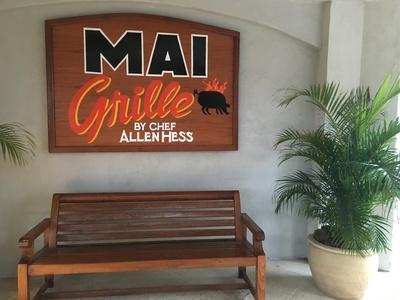 The Mai Grille at the Waikoloa Beach Resort Kings' Clubhouse opens early. Stop in for breakfast to start the day and then watch the teams practice at the driving range early morning before they head out to play their rounds. The teams will be on the driving range well into the evening after their 18 hole rounds. At the practice range you get a chance to see the different styles for practicing and pre shot routines as well as the team spirit as they support one another.
"The Amer Ari at Waikoloa Beach Resort is one of the most important collegiate tournaments of the year," says Earl Tamiya, Men's Head Golf Coach at the University of Hawaii Hilo, which is the tournament host. "We are proud to have it played at the Waikoloa Beach Resort."
"The Amer Ari is one of the best collegiate tournaments in the country," says Arizona State University coach Tim Mickelson, whose brother Phil has had a Hall of Fame PGA Tour career. "It has one of the strongest fields every year and simply participating in the event gives the college players a great feel of where they fit in college golf. If you can win the Amer Ari, you know you are in elite company."

For information about the tournament call Waikoloa Kings' Course at 808 886-7888.
Are you an owner or looking to purchase property at Waikoloa Beach Resort that will also serve as a vacation rental. There are many reason families love Waikoloa Beach Resort and one of them is the Kings' Club Membership. Want to know more? Contact me, Emily T Gail, RS at emilytgail@emilys.org or Cindi Morgan at cindimorgan@gmail.com.