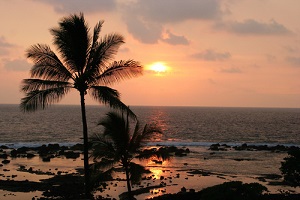 A short drive from the Kona International Airport is the easy going beachside community of Puako. Having served as a retreat for the wealthy in years past, today the area combines an eclectic mix of oceanfront housing and properties with spectacular waterfront views, and small town charm.
Residents in Puako are also free from the restrictions of resort communities, while still being close enough to enjoy their fabulous amenities and services. If you're looking for one of the last refuges from resort living, real estate in Puako is a peaceful sanctuary while still being close to life's little luxuries.
HOMES FOR SALE IN PUAKO
A single winding road travels along the rugged shoreline with houses lining either side. Housing in Puako is as varied as its residents. There are so many housing options available in Puako from 60s style beach houses and shabby fishing huts to expansive luxury estates. It's not uncommon to find a beach cottage sitting right next to a multi-million dollar beach mansion with views of Mauna Kea Mountain.
What these properties do have in common however, are their hefty price tags. With beachfront real estate in such high demand, these highly sought after homes command prices in the millions, with non-waterfront houses starting at about a million.
The area also offers investment opportunities for the right buyer as Puako is very popular for vacation rentals due to the year-round sunshine.
PUAKO AMENITIES & THE FAIRMONT ORCHID
AMENITIES AT THE FAIRMONT ORCHID
Puako real estate is located within a few minutes from one of the Big Island's premier resort hotels: The Fairmont Orchid. Sitting on acres of pristine shoreline, residents can access their sports and fitness club which offers aerobics and yoga classes, a variety of fine-dining options, beach cabanas, a luxury spa without walls, resort style pool, tennis courts and shopping. The resort is also close to world-class golfing: the Francis H li Brown North and South courses. Holoholokai Beach is 5 minutes away and has plenty of amenities including BBQ grills, picnic tables showers and the Malama Petroglyph Trail.
Other Nearby Amenities
With nature as a playground, the recreational opportunities are never-ending in this expansive coastline. Puako real estate is minutes away from Hapuna State Beach Park, one the most gorgeous public beaches on the Big Island. Popular outdoor activities include snorkeling, swimming, fishing, cycling, hiking, boating, and sunbathing. Locals frequent the glittering tide pools and lava rocks that cover the beaches as do migrating turtles.
Puako is also where you'll find thousands of ancient petroglyphs carved on volcanic rocks scattered all over the area in the Puako Petroglyph Archaeological Preserve. Homes in Puako are also close to several scenic golf courses, shopping, award winning spas and excellent fine dining. To find out more about golfing near Puako, visit our Big Island golf information page.
Holoholokai Beach
Interested Puako real estate? Contact us online to learn more about the specific communities on the Kohala Coast.