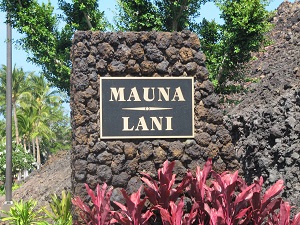 Mauna Lani Resort area is spectacularly located on the west side of the Big Island and acclaimed as one of the most beautiful areas in all of Hawaii. Meaning "mountains reaching the heavens," the 3,200-acre resort features beautiful white sandy beaches, top-notch accommodations, 2 challenging championship 18-hole golf courses, the Mauna Lani Spa and countless recreational activities. Mauna Lani is an easy 20 minute drive from the Kona International Airport, with access to world-class dining, and shopping. It is home to the Fairmont Orchid Hotel and The Mauna Lani Bay Hotel.
All Listings
$400,000 - $500,000
$500,000 - $600,000
$600,000 - $700,000
$700,000 - $800,000
$800,000 - $900,000
$900,000 - $1,000,000
Over $1,000,000
MAUNA LANI CONDOS & VILLAS

There are many advantages to owning real estate in the Mauna Lani Resort area. Fantastic dining options, breathtaking views and luxury amenities are within steps of your door. Residents receive discounts at local businesses and have exclusive access to a Private Beach Club. Mauna Lani has several neighborhoods with a range of housing options from condos to multi-million dollar oceanfront homes.
FAIRMONT ORCHID HOTEL
This Fairmont Orchid Hotel is an oceanfront resort sitting on 32-acres along the beautiful Kohala Coast. Lush tropical gardens and sparkling blue cascading waterfalls are just some of the gorgeous features you can find along the resort grounds. The fine-dining options are plentiful and some of the best on the Big Island. The resort also houses a state of the art sports and fitness club that includes a gym, lap pool and group fitness classes such as beach-side yoga, Pilates, Zumba, and kick boxing just to name a few. Impeccable service and five-star amenities make the Fairmont Orchid one of the premier resorts on the Big Island.
MAUNA LANI BAY HOTEL & BUNGALOWS
The Mauna Lani Bay Hotel is located right on the beach along the Kohala Coast. This resort offers cozy beach side living and complimentary services such as in-room Kona coffee, bicycles rentals, a shuttle service, fish and turtle feeding tours and Hawaiian entertainment. It is also home to two beautiful championship golf courses: the Francis H. li Brown North & South Courses which feature breathtaking scenery, challenging approaches and trademark black lava roughs.
For more information on golfing in Mauna Lani, visit our Big Island golf information page.
If you're looking for a little relaxation, visit the Mauna Lani Spa, ranked one of the "World's Best Spas" by Travel & Leisure Magazine. Let all your cares melt away in one of two natural lava saunas, a meditation pavilion, a watsu pool and an award-winning menu of luxury spa treatments.
AMENITIES IN MAUNA LANI
Staying at Mauna Lani definitely has its benefits. Mauna Lani has outstanding amenities to keep you entertained year-round and residents have the added benefit of exclusive access to private resort amenities. Enjoy beachfront dining at Napua restaurant in the Mauna Lani Beach Club. In addition to hours of undisturbed beach access from club, residents can experience some of the best snorkeling on the Kohala Coast. Practice your backhand at the many tennis clinics and tournaments at the Mauna Lani Tennis Club.
Outdoor enthusiasts will love recreational activities such as swimming, cycling, and beach combing. You can also find excellent shopping at The Shops at Mauna Lani.
SUSTAINABLE LIVING AT MAUNA LANI RESORT
Mauna Lani Resort has developed a reputation for sustainable practices. In fact, Condé Nast Traveler named it one of the world's Top Luxury Eco Friendly Beach Destinations in the world. Much of the resort's energy needs are met through its solar farm. Currently, Mauna Lani is generating 1,150,250 kWh of green power every year, the most of any luxury resort globally.
Mauna Lani Resort has preserved much of the area's historic, cultural and natural sites through enlightened stewardship. The developers have taken great care to protect the natural areas like the prehistoric fish ponds, pristine beaches, and flourishing living reefs. Development is carefully controlled, and must follow strict guidelines enforced by the Mauna Lani Resort Design Review Committee.
The Mauna Lani Golf Club has also been recognized for its sustainability. The course uses drought-resistant Salam Seashore Paspalum grass which minimizes the use of fertilizer and herbicides. In addition, day to day golf course operations are powered by solar energy.
Your new home in the Mauna Lani Resort area awaits, contact us online to learn more about the specific communities in Mauna Lani.