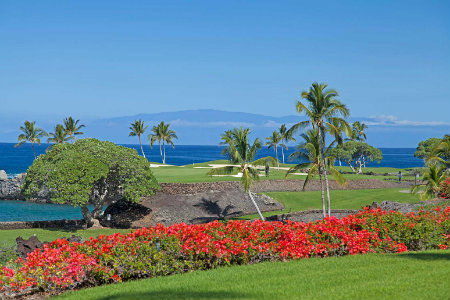 The Kohala Coast on the Big Island of Hawaii is a golfer's dream! Gorgeous scenic landscapes are paired with spectacular ocean and mountain views. In fact, the area is so well-renown for golf, that it has been nicknamed the "Golf Capital of Hawaii."
Kohala Coast golf courses are truly unique with lush green greens, jaw-dropping approaches and characteristic black lava roughs. They are among the most beautiful courses in the world. It's no wonder golf enthusiasts from all over flock to the Kohala Coast as a major golfing destination. Whether you are looking for a 2nd home close to year-round golfing or searching for a seasonal vacation home, you're guaranteed a memorable golfing experience with Kohala Coast real estate.
To learn more about Kohala Coast real estate, contact us and we'll get you started.
Read below for more information on a specific golf community.
KOHALA COAST GOLF
Beginners and seasoned veterans alike will enjoy the variety of golf courses available on the Big Island of Hawaii. The Francis H. il Brown South Course at the Mauna Lani Resort is a very approachable round of 18 that is filled with lovely water features and stunning ocean views. If you like a bit of a challenge, the Kings' Course at Waikoloa Beach Resort pairs strong tropical winds and challenging approaches.
Choose from these outstanding golf communities to discover more information on the prestigious golf courses that make the Big Island of Hawaii a world-class golf destination!
KOHALA COAST GOLF COURSES
WAIKOLOA BEACH RESORT
WAIKOLOA VILLAGE GOLF CLUB
MAUNA KEA RESORT

MAUNA LANI RESORT
HUALALAI RESORT
KUKIO RESORT

MAKALEI GOLF CLUB
BIG ISLAND COUNTRY CLUB
Playing a round at one of Waikoloa Beach Resort's 2 championship courses guarantees scenic oceanfront play that's fun for all levels. Play an an entertaining round to a backdrop of extinct volcanoes or pounding surf. It's Big Island golf at its finest.
BEACH COURSE
Make sure you bring your camera when you set foot on this stunning oceanfront course masterfully designed by Robert Trent Jones Jr. Golfers will enjoy a relaxing and challenging round amongst coconut palms, black lava rock fields, colorful tropical flora and the ocean. The Beach Course's signature hole, the 7th, is nestled on a lava peninsula surrounded by the blue waters of the Pacific. Some lucky players can even catch a glimpse of migrating whales and dolphins in the distance.
KINGS' COURSE
The more challenging links-style Kings' Course is without a doubt a players' course. Sitting atop of an ancient lava flow, this course presents golfers with long drives, strong trade winds, undulating greens and water features on several holes. The 5th hole, is deceptively tricky and comes with panoramic views of the lava field from the elevated green. Overcome the obstacles and you will be rewarded with an exciting day of golf, regardless of your experience.
For more information on golfing at the Waikoloa Resort, visit waikoloabeachgolf.com
Designed by Robert Trent Jones Jr, this 18 hole course is one of the more affordable rounds of golf on the Big Island. At an elevation of 1,000 feet, golfers can take in gorgeous views of volcanoes and the Kohala coastline close to 365 days a year. Players can expect well bunkered traditional raised greens and forgiving fairways that will allow for aggressive tee approaches. Fun for beginners and professionals, this course like other Kohala Coast courses, has its share of interesting challenges due to the island's unique topography.
Mauna Kea Resort sets the world standard in golf offering players a memorable 36 hole experience at its two championship golf courses: The Hapuna Golf Course and the Mauna Kea Golf Course.
MAUNA KEA GOLF COURSE
One of the most celebrated golf courses in the world, Mauna Kea Golf Course has been setting the bar for all others since it opened in 1964. The course was built on solid lava rock and features impressive sea level holes and water features. Meticulously maintained for an excellent quality of play, this course has recently undergone a face lift. Having been expanded by 200 yards with an increased number of bunkers, and a freshly planted crop of hybrid Bermuda Grass, Mauna Kea will likely remain the grand dame of Hawaii golf courses for years to come. A must play for any golf fan!
For more information on the Mauna Kea Golf Course, visit www.maunakeagolf.com
HAPUNA GOLF COURSE
The relatively new Hapuna Golf Course was designed by Arnold Palmer and Ed Seay in 1992 and features an environmentally friendly links-style design. Players should expect magnificent ocean views, rolling bluffs and challenging play. A memorable 12th hole offers stunning panoramic views of the Big Island. The course is also conveniently located and is within walking distance from the Hapuna Beach Prince Hotel. This is considered the hidden gem of golf courses in Hawaii and is frequented by locals and golf aficionados alike.
Mauna Lani Resort's 2 award winning courses have been the recipients of Golf Magazine's Gold Medal Award every year since 1988.
FRANCIS H I'I BROWN SOUTH COURSE
The South Course is a great introduction to golf in Hawaii, with its amateur friendly layout. Generous fairways and inviting greens makes the South Course a truly enjoyable round of golf. Home to the original PGA Senior's Skins Game, it was expanded to 36 holes just over 10 years ago. The 7th and 15th holes offer fabulous ocean views and the lava rock which surrounds the entire course presents its own set of challenges.
FRANCIS H I'I BROWN NORTH COURSE
The North Course is a little more challenging but is a sheer delight to play with its lush landscaping and rolling terrain that's reminiscent of golf's Scottish origins. Players must maneuver past gnarly Kiawe trees, tricky water features and sand dunes. The infamous 17th hole plays into an unforgiving field of black lava rock and is the bane of many a golfer. You have the option of choosing between as many as 5 different tee positions. The North Course also plays host to numerous tournaments throughout the year.
Ready to find your new golf vacation home on the Kohala Coast? Contact us and we'll connect you with the best golf real estate.

OTHER BIG ISLAND GOLF COURSES
MAKALEI GOLF CLUB
Golfers with "wild" instincts should head inland with a camera in hand to the Makalei Golf Club, located along the slopes of Hualalei. Makalei is located near Kona on the slopes of Hualalai Mountain. Locals and tourists alike love to golf at this unique course in the coolness of the 1,800 to 2,300 elevation. Nestled amongst silver oaks, ohia trees and all sorts of local wildlife, Makalei's natural backdrop is arguably one of the most beautiful of the Big Island golf courses. Makalei has gorgeous upcountry views, and is a home to wild peacocks, phesants, turkeys and other wild birds. You can even buy bird seed at the Makalei Clubhouse! Unlike its coastal counterparts, Malakei's lush forest landscape provides players with a different set of obstacles from elevation changes to challenging terrain. Its convenient location, 10 minutes from Kona's Keahole International Airport makes for immediate gratification right out of the gate.
For more information on golfing at the Makalei Golf Club, visit www.Makalei.com
The Kukio Resort offers two completely different golf experiences with its two golf courses designed by renown golf course architect Tom Fazio. Try the Tom Fazio Short Course for a quick round of 10-holes or challenge yourself while you admire the views at the 18-hole Tom Fazio Signature Golf Course. The catch? Getting a chance to play on these beautiful courses as they are private and reserved exclusively for Kukio residents and their guests.
TOM FAZIO SHORT COURSE
This wonderful 10-hole course is great for beginners and those looking for a place to hone their skills. Walking distance from the Kukio Beach Club. The Short Course has practice areas and shorter holes to meant to improve the skills of the player in all aspects of the game.
TOM FAZIO SIGNATURE GOLF COURSE
A playful round of golf, the Tom Fazio Signature Championship Golf Course tests a golfer's athletic ability over 18 stunning holes. Variety is what you can expect with this round of golf, with changing elevations and a changing backdrop of topography meant to test even the best golfers. The course also hosts the Kukio's Men's and Women's Invitational each February.
JACK NICKLAUS SIGNATURE HUALALAI GOLF COURSE
A visit to the Jack Nicklaus Signature Hualalai Golf Course will justify the resort reputation as a world-class golf destination. With over 7,100 yards of impeccably maintained course captures the best of Hawaii's stunning natural landscape with seaside greens, jet black lava rock, and swaying palm trees. With long tees, intimidating bunkers and strong trade winds, club selection is key to a successful round of 18. The course's intermediate difficulty provides a good test for novices and serious golfers alike. The private course also hosts the annual Mitsubishi Electric Championship at Hualalai.
HUALALAI GOLF CLUB WEISKOPF COURSE
More to come
BIG ISLAND COUNTRY CLUB
Big Island Country Club offers one of the many non-resort affiliated golf courses that's open to the public for a affordable fee. Known for its fantastic views, cool mountain air and Bent Grass greens, this course is a favorite among visitors and residents of the Kona and Kohala Coast. The 2500 foot elevation presents players with "across the ocean" sweeping views of the Maui volcanic mountain of Haleakala and the rolling bluffs of the Kohala Coast shoreline below. Don't let its location fool you, as water features are an added obstacle to half of the 18 holes. The signature par-3 island green on the 17th hole is a memorable one indeed. Finally, several tee choices means this course is adaptable to all levels of play. This is truly a "bird sanctuary" and you will see many types of birds, including the rare Hawaiin "Nene," turkeys and other wildlife such as goats feeding their cute little young right on the fairway. This is Golf Big Island Style! You must experience it!